Amazon Fire TV for £79! 4.4 out of 5 stars!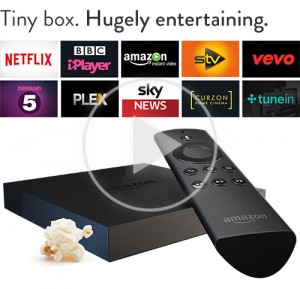 This looks awesome!  My brother and a few friends have purchased this and all I have heard is great reviews and it has 4.4 out of 5 stars on the Amazon website. Amazon Fire TV is a tiny box you connect to your HDTV. It's an easy way to enjoy Netflix, Amazon Prime Instant Video, low-cost movie rentals, music and much more
Massive selection—Thousands of TV episodes and movies, millions of songs and over a hundred games. Show me
Free 30-day Prime trial—Enjoy unlimited streaming of thousands of popular movies and TV shows from Britain's largest subscription streaming service. Learn more
Voice search that actually works—Simply say the name of what you want to watch and start enjoying in seconds
Tiny box, huge specs—Fast quad-core processor, 2 GB of memory, dedicated GPU, plus support for up to 1080p HD video and Dolby Digital Plus surround sound
Easy to set up and use—Pre-registered to your Amazon account so you can enjoy favourite titles and personalised recommendations
Instant streaming—Exclusive new feature ASAP predicts what movies and TV episodes you'll want to watch and buffers them for playback before you hit play
Great for gaming, too—Play blockbuster titles like Minecraft-Pocket Edition, The Walking Dead and Monsters University, plus free games and Amazon exclusives. Paid games start from just £0.59.
Click here to see more!